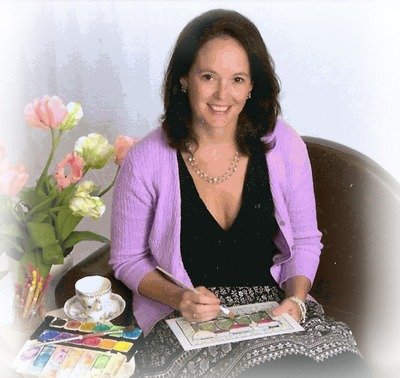 Lula Bell
started with an artist's dream to share whimsical art with a feel good theme.
Amy M. Gantt (artist and aka Lula Bell) realized her lighthearted illustrations expressed her "glass is half full" view of life and made people smile.
When her children were born she decided to leave her position as a Family Therapist to stay home with her children. Counseling troubled kids had a major influence in the mission to bring a "smile to your soul." "I started to draw and participate in local art shows and told my husband that I wanted to start an art company some day. I don't think he believed me," said Amy Gantt.
While her children were young, she drew and painted anytime she could. She painted during their naps, while at the park, and even at the pool.
Finally, Amy was able to start
Lula Bell Art and Designs
.
After reading every business book she could find and consulting with people that understood her dream, an art company was born.
Lula Bell Art and Designs
has grown and so have her children. Lula Bell cards and gifts are available in stores throughout the USA. Lula Bell is proud to print in the USA, on recycled papers and hand glitter every card. At Lula Bell, we have special "Glitter Gals" (they hand glitter every card) because we believe glitter adds that extra special touch.
Amy continues to create
"smile for your soul"
designs for
Lula Bell line of products
Childrens' Book Illustrations
Teaching Art Classes.
Visit the
Lula Bell Store
and Studio T-F 9-6 / Sat. 10-4 at 23 Park Ave., Oakwood, OH 45419.
Thank you
for sharing Amy/Lula Bell's art and dream with the special people in your life.