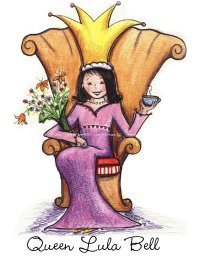 Lula Bell and the Glitter Gals
focus on enhancing the world through whimsical art that is a smile for your soul.
We believe it is important to stay connected, share humor in everyday life, and leave a sparkle wherever you go.
Each card is hand designed and painted with watercolor paints and watercolor pencils by artist
Amy Gantt
.
The original designs are sent over to development to match up verse and sentiments.
Once the design is approved, it is made into Note Cards, Greeting Cards and Prints.
Each Card is hand glittered by the
Glitter Gals
for that extra special touch.
Lula Bell Believes...
1.  We strive to  enhance peoples lives through whimsical art that is a smile for the soul
2. We believe it's important to stay connected
3. Nothing ventured-nothing gained
4. Life is short....use the fine china...wear cute shoes...eat cake
5.  Do life with style, flare and/or personality
6. Freshen up your bathroom and kitchen with cute
7.  We are all in this together .  Nice people welcome...mean go away.
8.  Art is a gift of humor
9.  Art is a gift that brings a smile
10. Art is therapy w/o a therapist
11.  Art with a heart and story
12. Life is Art
13. We are in our here & now
14.  It is important to create your environment with things you love
15. Art can be a part of everyday life
16.  find and share humor in everyday life
17. Personal connections are important
18. To-do's can be cute and  fun
19.  Our environment should make us feel good
20.  Make each step count
21.Leave a little Sparkle wherever you go
22.  Life isn't about waiting for the storm to pass, it's about learning to dance in the rain
23.  If mama aint happy, nobody's happy
24. Celebrate your inner Queen
Testimonials from Customers
"Wonderful secret in Oakwood"
"Love visiting this boutique stationery shop. Always something new to discover!"
"Unique gifts with personalized art at very reasonable prices.
Staff very welcoming and helpful. Highly recommend Lula Bell Art and Design!!"
"It's such a fun place to shop and everyone is so friendly.
My friends love it when I shop there and they see the black and white polka dot bags come their way!" 
"Your store is just a delight and we love your shop bunny!"
"Your employee was so helpful. She showed us items that were perfect for our needs!
We will definitely be back - great customer service!"
"Wonderful store!
Friendly staff!
Special cards!"
"Thank you for some new cards and new subjects! I love them.
I have been ordering from you for several years now. Thank you for supporting my card habit."