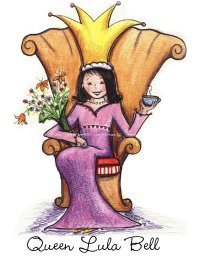 There once was a Queen named
Lula Bell
who spent her days drawing and painting whimsical art.
She dreamed of her art providing smiles and bringing cheer to others.
Together,
Lula Bell
and her
Glitter Gals
(they hand glitter every card)
create whimsical and unique designs that are on Greeting Cards, Note Cards and so much more.
Thank you for sharing
Lula Bell's
dream
with the special people in your life.
Visit our Oakwood, Ohio stationery shop were we have
unique

Greeting Cards, Note Cards,

and

gifts.

Join us at 23 Park Avenue for

Art Classes and special Events
as well as being the home of
Lula Bell
. We love being apart of your world and sharing our love of art, stationery and all things cute.
Testimonials from Customers
"Wonderful secret in Oakwood"
"Love visiting this boutique stationery shop. Always something new to discover!"
"Unique gifts with personalized art at very reasonable prices.
Staff very welcoming and helpful. Highly recommend Lula Bell Art and Design!!"
"It's such a fun place to shop and everyone is so friendly.
My friends love it when I shop there and they see the black and white polka dot bags come their way!" 
"Your store is just a delight and we love your shop bunny!"
"Your employee was so helpful. She showed us items that were perfect for our needs!
We will definitely be back - great customer service!"
"Wonderful store!
Friendly staff!
Special cards!"
"Thank you for some new cards and new subjects! I love them.
I have been ordering from you for several years now. Thank you for supporting my card habit."